Welcome to Photos by Stacy!
Follow this link

to view the collection of pictures that were showcased on Fox 10 News during my interview 'Taking beautiful photographs on 4/1/13'
We are a privately owned LLC providing photography services in Arizona.
Our work has been featured in
CNN
,
Phoenix Magazine
, Weather.com, NBC, ABC, CBS, FOX and most recently on Arizona Highways Magazine on Facebook and many national and local newsmedia.
If you would like to purchase some of our prints
, you can do so online by
following this link.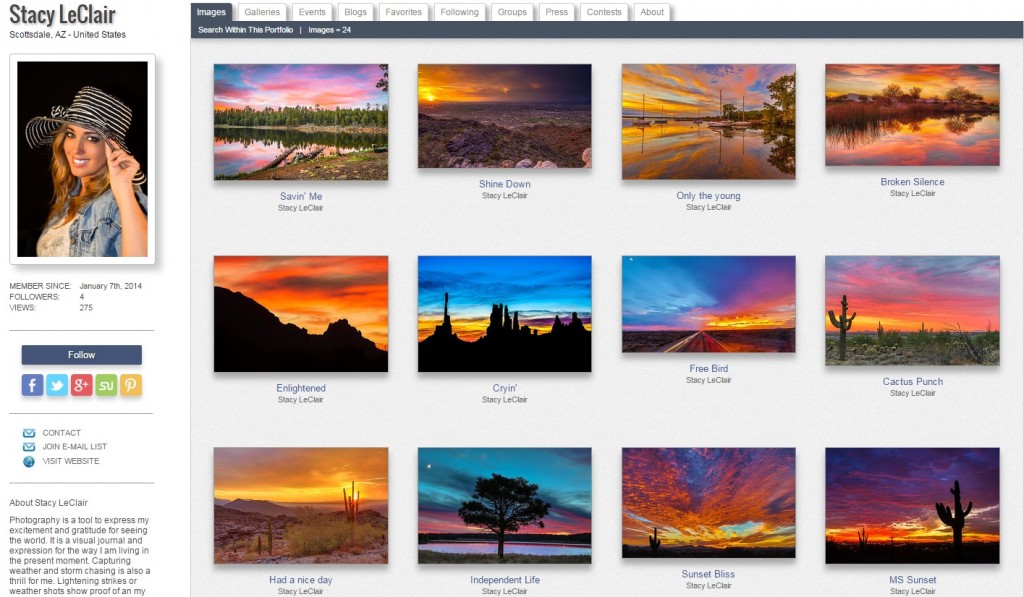 Some of our photography is also on display and available for purchase at these locations:
One of my personal goals is to experience as many Arizona sunsets as possible and share that experience with our followers.
Follow us on
Facebook
and
LIKE
our page if you like Arizona Sunsets.
Thank you for visiting our website.
Facebook Community

Join us on Facebook to keep track of our Arizona adventures. We are always out shooting something!  Sunset are our specialty.
Like our page if you enjoy Arizona Sunsets.

Photo tip of the 

week

I will be sharing with you some tricks and tips I like to call "Photo Tip Of The Week".

Come share your thoughts and feel free to apply to your own work if you want to.

Workshops

Come check out my upcoming workshops and register online to attend.

I offer various  levels of photography classes and workshops locally in the Valley in Arizona.

All levels of expertise are welcome!